This page updated October 18,2008
A COCKATIEL HANDBOOK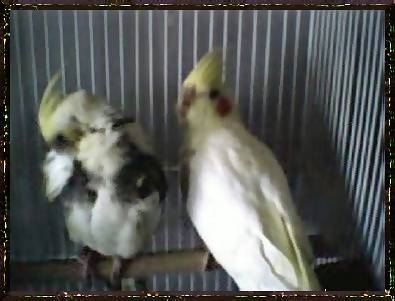 We have created a handbook with lots of information for the cockatiel lover that we used to hand out to anyone who purchased a cockatiel from us...This handbook contains information that many persons are not aware of. In most cases breeders are the only ones who know some of these things which almost seem top secret but should not be.
This handbook is a list of basics; and things pet stores don't tell you and the things they may tell you that a breeder advises against. We all want our birds to live a long healthy life. It has been said that birds who are pets generally live shorter life spans than those who are owned by breeders..breeders do a lot of research as well as raise babies and learn from trial and error. As a breeder with 7 years experience I feel my handbook has valuable information for the pet owner that could very well extend the longetivity of their fid/fids expected years. However I will say when it comes to owning Tiels and birds in general if you are unsure of its safety don't allow your bird near it.
In an effort to raise money for my family to help them in this emotional and financial trauma we are in we are now selling this handbook for a small fee and keep in mind there is no shipping cost because once you pay via paypal then I will email the handbook via email. If you would like a copy printed and mailed or burnt on dvd and mailed let me know and I will see what we can come up with as this would of course cost a little extra.
Purchase a Cockatiel Handbook and Learn the secrets breeders know to longetivity of your beloved fid.