BEAR TOTEM GUIDE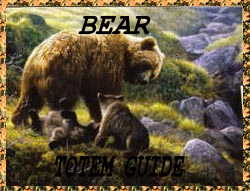 The Bear was one of the first of animals to be honored because of his great strength and ferosity; and to know Bear is to connect to the roots of the very beginning of humanity.
Bear brings with him primal power and also great intuition as he connects you to the Primal Mother who will defend you fiercly from all danger as we all know how fiercly mother bear protects her own. With Bear your intuition will never fail you; as he also connects you to the Polar Star. All you have to do is listen to it in the still of darkness and the quiteness of a moments. Working with Bear you will become a spiritual warrior; with great power. Learning to unite your strength with your intuition, and your spiritual with your instinct.
Bear brings with him a very strong presence and reserve for power; it is important to use this animal primal power with the balance of your human qualities of reason and compassion; otherwise Bear can damage your life and also the lives of those around you.
If you have embraced, accepted, and come to know Bear you will connect to your ancestors roots and gain all of his strength and instinct; just remember to temper the beast with reason and compassion. An introduction to the Bear at some phase of your life may be telling you to use his qualities and energies to help in a situation; or also asking you to consider your qualities of ferosity and strength. Could you be using too much strength and power and not enough reason and compassion in dealing with a certain situation?
If you feel Bear is your Totem Guide please feel free to take the image at the top of this page to proudly recognize him......a link to my site would be appreciated though.